Welcome to the 30th Birthday Edition of Friday Favorites. This week's Friday Favorites is dedicated to me. Because…it's my birthday! 🙂
Favorite Birthday Girl: Me, Lia Picard. I'm 30! I'm so excited for a new decade and I'm feeling good about all the things coming my way. Here's to more writing opportunities, fun times with friends, travels, and of course, delicious meals!
Favorite Doughnut: these Funfetti doughnuts! I picked them up from Doughnut Dollies, one of my favorite doughnut spots in Marietta. Because there are no points on your birthday I'm letting myself have one.
Favorite birthday activity: oyster happy hour at BeetleCat. BeetleCat is a beautiful Ford Fry restaurant in the hopping Inman Quarter development. Their seafood dishes are all wonderful, but from 5-7 pm they have $1 oysters! You just can't beat that. I plan on washing them down with Champagne. Like, the real stuff. From France. Because it's my birthday.
Favorite husband: mine! Jonathan Picard is the best. He bought me a MacBook Pro for my birthday, and today the "Coffee Fairy" left a $30 Starbucks gift card by my purse. He's also my biggest supporter and fan. Really, he likes every pic I post on Instagram. If that isn't love, I don't know what is. I can't wait to pal around with him all weekend! Looks like we'll be heading to Decatur for lunch at No. 246, ice cream at Butter & Cream, and shopping at Kudzu. Dinner tomorrow night at Better Half.
Favorite thing I did for myself: a 6:30 am workout! I hate waking up early, especially on Friday, but I really wanted to go into 30 on the right foot. So my personal trainer, Peta-Gay, came over and worked my abs. OUCH! But ouch in a good way, you know? I don't have a photo for that, so here is a gif of a walrus working out.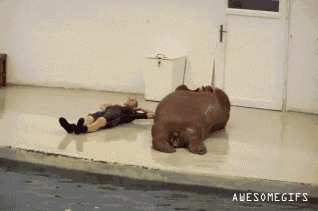 Thanks for reading my gratuitous birthday Friday Favorites. I hope you have a great weekend planned!